In-Space Missions Ltd. will partner with Orbex, a UK-based orbital launch services company, to launch the Faraday-2b satellite from Scotland in 2022.
Faraday-2b will be the largest of In-Space's commercial Early Service/In-Orbit Demonstrator (IOD) missions to date. Its space-as-a-service Faraday missions provide ultra-low-cost access to space for customers needing to demonstrate new services and technologies with the potential to move into an operational phase. In-Space is currently manifesting payloads for this mission, whereby multiple organizations will share up to an expected 45 kg. payload on a single 80 kg. satellite. The company's first mission, Faraday-1 will launch later in 2019.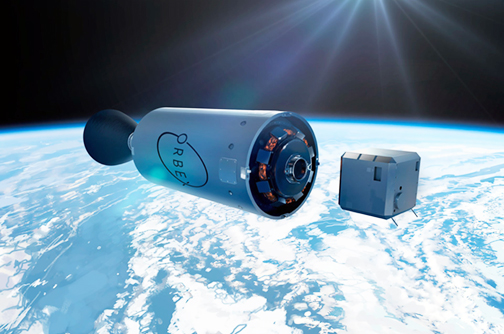 With $40 million in project financing, Orbex publicly unveiled the engineering prototype of the Stage 2 of its Prime launch vehicle, a dedicated smallsat launcher in February of 2019, which is up to 30 percent lighter and 20 percent more efficient than any other vehicle in the micro launcher category. Orbex Prime uses bio-propane, a clean-burning, renewable fuel that cuts carbon emissions by 90 percent compared to traditional hydrocarbon fuels.
The Faraday-2b satellite will be launched from what is expected to be continental Europe's first spaceport, Space Hub Sutherland, in the A'Mhoine peninsula in the Scottish Highlands. On August 1, 2019, Orbex's partner, Highlands and Islands Enterprise (HIE), confirmed that the company had signed a 75 year lease option with landowners, the Melness Crofters Estate, to build and operate a spaceport on its land. This critical development opens the path for the UK and Europe's first sovereign vertical launch capability.
Doug Liddle, CEO of In-Space, said traditional rideshares on a larger vehicle create a level of schedule uncertainty that can kill small space missions. For our Faraday service to thrive, the company needs the commercial and technical innovation that we have seen in Orbex, combined with the efficiency of a European launch site. Orbex is one of the most innovative NewSpace companies in Europe and in partnership with them, In-Space is able to deliver a turnkey service to customers that is miles ahead of the competition.
Chris Larmour, CEO of Orbex, said this is a dynamic time for the UK and European commercial space industry and the company is excited to be able to support the In-Space Early Service missions, which are providing highly agile orbital access for a host of new space services and technologies. In-Space's commercial IOD capability is one more critical competence that will be available to customers within continental Europe. With the positive progress being made with Space Hub Sutherland and now In-Space signing as Orbex's fourth customer, satellite owners can see that Scottish launches are fast becoming a commercial reality.
---
For all involved in the satellite and space industry and the various market segments that add value to these dynamic environments, the 2020 SmallSat Symposium is truly worth your consideration for attendance.
The 2020 SmallSat Symposium starts on February 3, 2020, with workshops, then the Conference runs February 4 to 6 at the Computer History Museum in Mountain View, California, in the heart of Silicon Valley.
The SmallSat Symposium is hosted by Satnews Publishers which, since 1983, has been a provider of a satellite news, media and events. This information packed forum was created to enable you and your company to secure a larger portion of market share as well as to take part in the next stages of your company's or organization's growth.
The personal connections at the SmallSat Symposium enable attendees to network with established organizations, subject-matter experts as well as 'New Space' entrants.
The SmallSat Symposium will focus on new technologies and the business environment that is shaping the implementation of smallsat constellations, smallsat launchers, the challenges facing the smallsat developer and actors as well as the enormous benefits of these advanced technologies that will benefit our world.
This event assembles more than 100 diverse speakers, all of whom possess deep industry experience. Additionally, numerous opportunities exist to mingle and network with peers while enjoying exceptional, complimentary meals and refreshment breakfast.